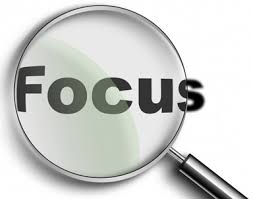 After a somewhat grueling workout at my Crossfit box one morning, I was feeling a little disappointed in my overall conditioning progress. I approached the head coach, Adam Neiffer, to ask his advice on perhaps picking up a couple more classes a week in order to improve. His response surprised and challenged me. His answer: "No." He told me it wasn't more volume (more time) that I needed. Instead, what I needed was focus. I needed to rest a little less between sets; I needed to increase the intensity I gave to the workouts I was already doing. As I listened to and reflected on what he was saying, I was reminded of how his words, though true for my Crossfit workouts, were true across the spectrum of my responsibilities and goals. There is nothing more effective than being "fully present."
Without focus, everything is blurred. Nothing is clear, and nothing worthwhile develops. Too often I am guilty of somehow trying to be two (or more) places at once. I am at home while thinking about what I need to do for work. I am at work thinking about how I should have left for home already. I am at the gym sweating and gasping for breath thinking about how soon I will be able to rest. And when you're only half-way up, you're neither up nor down.
Focus, on the other hand, is so much more effective AND enjoyable. It is effective because focus facilitates the full investment of my affections and attention. All of me is in the now. I am much better when all of me is there. I'm a better husband and father when I am "fully present" for my wife and kids. I am a more thorough scholar and speaker when I am fully vested into progression of thought and word. It's true even for the time I invest in private prayer. I've often thought that the "more time" I set aside for prayer or meditation would produce greater results in my life. But if I just mutter out prayer while keeping an eye on the clock – I'm neither up nor down. I'm not doing heaven or earth much good that way. But prayer that is fully aware of His presence, and that embraces Him fully – makes the ticks of a clock irrelevant.
Lack of focus often is the result of hurry-sickness. Trying to multi-task. Trying to get more than one thing accomplished well at one time. Trying to cut a corner. Hurry. Quick. Microwave everything. John Ortberg  writes, "It is because it kills love that hurry is the great enemy of spiritual life. Hurry lies behind much of the anger and frustration of modern life. Hurry prevents us from receiving love from the Father or giving it to His children….If we are to follow Jesus, we must ruthlessly eliminate hurry from our lives."
Finally, being "fully present" is the most divine way of living. Jesus was fully present with people. Whoever was right in front of Jesus had his fullest affection and attention. Though Jairus' daughter lay dying, Jesus still paused for the woman in the crowd who touched him. Neither of them received a partial Jesus. The Holy Spirit is fully present in this moment; all the attributes and power and promises of heaven are breathing into this moment. "Now" is too precious, too sacred, and too powerful to waste by forfeiting it in anticipation of "next." Now is the right time to be all here. This moment deserves and requires my focus.
Jim Elliot, the missionary martyr, famously said, "Wherever you are, be all there." Thanks for the reminder, Adam.
Thanks for reading; I hope to have encouraged you today.
~ Dav