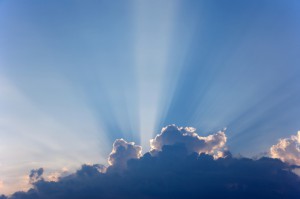 God is an optimist. He is resolutely hopeful. Fear is absent from His gaze. God loves the future, but He does not need to resent or reject the former to do so.
In Haggai 2:6-9, the prophet, speaking for God, declares that although the former temple was glorious, the glory of the future temple would be greater. That is a bold and fascinating claim. The former temple was exceedingly magnificent, part of a glorious dynasty and lineage that the world has seldom (if ever) seen equaled. It was the center of national pride, robust with rich beauty and intricate design. The former temple shook with the visible presence of God. God lived in it. Whoa. The testimonies, the life-changing and nation-shaping events that transpired there are sacred. And now, in the midst of a barely reborn and hardly rebuilt nation, God's mouthpiece claims that the new will be better than the old.
I am fascinated by that moment. The prevailing mood must have been at best doubtful, if not outright pessimistic. No evidence for a grand future existed. The scales of greatness were tipped by the weight of yesteryears long gone.  But hear the heart of God; listen for the pounding resonance of hope. The prophet's words paint possibility on the canvass of his audience's imagination. God says, "It can, and it will, be better than before." It strikes me that this is how God sees the future, regardless of current situations. It doesn't have to be bad for God to say things are going to be good. Things can be pretty good, and God still has designs for them to be even better. In fact, no matter how glorious the past was, it never, absolutely never, should be considered a high-water mark. God's tide is always rising. God's beautiful brilliance always sees the future as better and brighter, not because He's necessarily displeased with how things are or were, but because beauty and excellence and growth and ever-increasing-glory are fundamental expressions of God's very self.
For God to say the new temple was going to better was not a rejection of the former temple. The former wasn't insufficient. It wasn't a model to avoid or reject. This is not a proof-text for us to be condescending to our past. It is simply an invitation to believe that regardless how great (or not so great) our past was, God always has a more glorious future for us. The reason we don't "live in the past" is precisely because the laws of physics do not allow us to. We cannot live anywhere other than "now" nor can we plan for anywhere other than "next."
For our future to be better, we don't need to reject or forget the past. Rather, we should cherish and celebrate testimonies and experiences as fuel for faith in future glory. What God has done before, in and through people who were willing, should inform our expectations that God will continue to express His brilliance, power and love through people who are grateful for what He has done, and willing to be part of what He's still doing.
Cheers to the glorious future, and happy new year
~ Dav