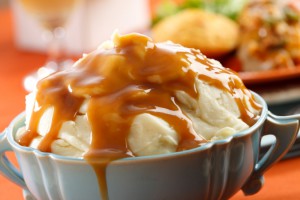 There is something sacred about the parameters of a plate. That is just some really personal space there. To sneak a nibble off a stranger's plate is among the more indelicate actions conceivable. There is a pretty big difference between walking through a restaurant and noticing that what someone has ordered looks good, and deciding to find out on the spot for yourself if it is tasty. Pardon me, mind if I have a sip of your soup? In general, unless you're dealing with toddlers-who-need-bites or spouses-who-wish-they-ordered-what-you-did, you simply do not eat off someone else's plate. That is, unless we apply it to Thanksgiving.
No, I don't mean that at the thanksgiving table one should be free to sample other's side dishes or (by any means) mooch my mashed potatoes. I mean thanksgiving as in the act of giving thanks—gratitude.
Gratitude is the one arena where I can freely enjoy eating off of other's plates. I can celebrate and give thanks for what is happening in the life of a friend, a family member, or even a complete stranger. I can give thanks to God for my friend's promotion, for my brother's new job, for the sweet deal on a new dryer that a lady in my church found. I give thanks for the stories I hear from around the world where love has overcome hostility, where faith has risen from failure, and where compassion has confronted suffering. I can (and do) give thanks for the stories of God's grace at work in lives of people who lived and died generations ago.  I don't even need permission to eat off of other's plates when it comes to gratitude. I can eat to my heart's content. The grateful heart has a continuous buffet.
What if my own plate is lacking? What if it seems like all I have are some crumbs and some wilted garnish while someone else's plate seems to be overflowing gravy-goodness? Well, I have two options: I can fuss and feud. I can complain about my lack and criticize the injustice of what others have. I can sulk in my sadness. I can do that as long as I want to. I will then be no happier, no more content, no more hopeful, no more generous, and no more full than I was earlier. And my plate will still appear quite empty. OR I can give thanks for the grace I see in other's lives. As I do, the first thing that will happen is my own joy will increase – because gratitude always leads to greater joy. Further, celebrating the victories and joys in others' lives encourages my own soul. The same God that is at work in the lives of family, friends, and total strangers is the same God who loves me and knows my name. Gratitude for God's goodness in other's lives testifies to God's ability and willingness to cause His goodness to prevail in my own life. The more stuff on other's plates that I see, the more evidence I have for hope. So I will feast off of the full plates of others for the sake of my own soul.
Finally, I should note that a curious thing about gratitude is its powerful effect on perspective. Giving thanks helps me see just how much I am blessed. My plate is nowhere as barren as I imagined. In fact, I probably have enough for others to start eating off of my plate.
Happy Thanksgiving.
~ Dav