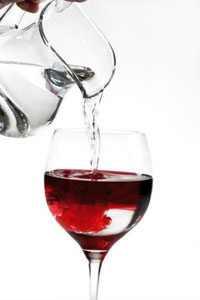 It was a wedding celebration five short miles from Jesus' hometown of Nazareth, nestled in a small village named Cana. Mary, the mother of Jesus was there.  Jesus was invited as were the small but growing group of His disciples. Family members, friends, and several if not many of the village residents gathered to celebrate. The sun was hot and the warm winds blowing from the sea coast made for the perfect outdoor party. A wedding feast. Everything was ideal for the big event. And then – life happened. They ran out of wine. Not tragedy; not death; not war or famine or violence. Life happened. And on this regular Wednesday afternoon, in a small town, at a no-name wedding, for no particularly epic reason, Jesus performed His first miracle. And hope burst onto the scene like the first rays of a sunrise.
Look at John 2:1-11 with me, and let's find fresh hope in the miracles of Jesus
John tells us where the wedding was held, and that Jesus' mother was there. Some early, non-canonical documents suggest that Mary was there as an auntie – that it was her sister's son getting married. If that is the case, it certainly helps us understand why she was hands-on solving problems and giving orders to servants. It also explains why Jesus was invited – who hasn't got roped into a family wedding?
Some sources say that by tradition, if not requirement, Jewish weddings were held on a Wednesday. The actual ceremony was held in the evening, after a great feast. Following the feast, the couple were married. Then they would be escorted to their new home – under a glowing canopy of flaming torches and lanterns. They would take the longest route possible to their home, so that all in the village may bless them and wish them well. And the next week or more they would have "open house" – dressed in their finest clothes and richest adornments, being treated like royalty by on in their village. This was a high-point in their lives and the lives of their families. And though a celebration, it was serious… the family's honor was at stake in the festival going well.
But there was problem. They ran out of wine. We aren't told why. But we do know that wine was very important. "Without wine," the Rabbis said, "there is no joy." This would have cut short the feat and cast a shadow of gloom on the entire celebration. In short, running out of wine would have shamed the family and ruined the occasion for everyone. Life happened.
Has it ever felt like you, too, have "run out of wine?"
Mary comes to Jesus and matter-of-factly informs him, "they have no wine." I just have to wonder what Mary knew, what she assumed – why did she come to Jesus about this?  People sick, people dying, corrupt tax collectors, oppressive government… and not to mention she'd been informed of the humanity-saving destiny of Jesus by angels when he was born… and she brings him this? Why?
I don't know. To me it doesn't make sense why she would bring this kind of problem to Jesus – but I'm glad she did. I bet in hindsight the guests were glad. I am glad for the testimony Mary has provided. Have you ever hesitated to involve Christ? Have you ever wondered if he'd care about what matters to you? May we be as bold and ready to anticipate Christ's involvement in our lives.
Jesus' answer may prove troubling to some as we read in the English translation.  It sounds a little rude in the ESV. It sorta sounds like Jesus is saying, "Woman, why you buggin? Ain't nobody got time for dat."
Well first, the phrase, "woman," when compared with other times Jesus uses it and how it used in other Greek literature, is far more affectionate than it sounds. A better reading would sound something more like, "My lady…" Further, the "what does this have to do with me" is a transliteration of a phrase that originally could have expressed two different sentiments: one harsh, one warm, depending on the tone that was used. For example if I said, "I'll handle it," that could sound harsh or it could come across comforting – depending on the tone. So, a better way of understanding what Jesus said to His mother was, "I will handle this in my own way; have no more concern over it. My hour – the big reason and purpose for mission – has not yet arrived." Jesus essentially tells her, "I've got this." Some of us may need to hear those words – "I've got this…"
Mary then turns – as if merely mentioning the need to Jesus is sufficient- and tells the servants to do whatever Jesus tells them.
And nearby stood six stone water pots – used for ceremonial washing. They used the water from these pots to wash off dusty or muddy feet. They used this water to ceremonially wash their hands before a meal, and also to ceremonially wash their hands between courses. If, in fact, they did not wash between courses in the prescribed manner, they were considered unclean. I imagine this got wearisome. Doesn't religion wear you out? And this was all religion – it was more about ceremony and ritual and fear of being unclean than any real change.
Jesus tells the servants to fill these pots with water, and they did – to the brim. Then Jesus told them to draw the water out and take it to what would have been the "head waiter" – the friend or family member responsible for coordinating the guests and food. His response was this: "you've saved the best for last."  Most people dish out the generic brand after no one notices anymore. But Jesus made available 120-180 gallons of fine wine – more than enough, more than could likely have been consumed by the wedding party. He made more than enough of the best.
So remarkable: many things that man does fades. But Christ's work never fades or grows dull. He never simply settles for left-overs. We do not have to live off of the stories of the past or the memories of yester-year. Jesus saves the best for last.
In this story of an everyday event in a small town in the middle of nowhere, where "life" happened to everyday people, Jesus works His first miracle. And in this act, unknown at the time by almost all of at the party, his disciples caught a dazzling glimpse of who Jesus was.  And they placed their faith in Him.
What Hope do we find here?
What is revealed to us about God?
Jesus reveals the goodness and kindness of God to help us in our time of need. Christ is vulnerable to our concerns. He is not distant. He is as close as the mention of His Name. Mary didn't even need to yell. Life happens.  God cares.
Jesus reveals the power and will of God to bring real transformation. The ceremonial washing was powerless. It was ritualistic, and had temporary benefit at best. But in the cup that now holds water made wine by Messiah's hand, we see that the change that Jesus brings is not ceremonial, but actual. Jesus didn't turn the stone water pots into wine bottles. He changed the ceremonial washing water into rich and pure wine. Jesus doesn't give us the Cinderella treatment. He doesn't change our exterior to make us acceptable to others. He changes us on the inside. And then then he says, "draw out what I've given you and give it away" – so that others may taste and see that the Lord is good. So that others may partake of the hope we have.
Jesus reveals how overwhelming and complete His grace is. By turning so very many gallons of water into the best wine. He demonstrates that there is a super abundance of His grace. There is more than enough. Regardless of your need. Regardless of your mess. Regardless of your past or present – His grace is here and it's more than enough to meet you, to help you, to heal you to refresh you, and give you new life.
Jesus reveals a gospel of joy. The rabbis said that without wine there is no joy, so then what does it mean if there is a super abundant supply of the best wine? It means there is glad tidings of great joy: The Kingdom of heaven is here. Jesus is the Christ, the Son of the Living God. Jesus is Lord. Repent and believe the good news.
How is Our Faith Informed?
We can have confidence to involve Christ in all of stuff of life –  when "life happens." Mary came to Jesus with a concern that to some, to many even, may make no sense as to how it might concern Jesus. Again, I am glad she did!
What if she hadn't? Consider what we would have missed? Consider what happens when we don't…"Oh what peace we often forfeit; oh what needless pain we bear, all because we do not carry everything to the Lord in prayer."
We can have confidence that obedience leads to our joy. Doing "whatever he" told them – the servants obeyed Jesus. And the result of obedience was everyone's increased joy. Apparently, we really should obey God for our own good. Nothing good happened here until someone obeyed. Agreeing isn't sufficient. Obeying is what brings change. I am inspired by the fact the servant filled the pots "to the brim." Whole hearted obedience, total devotion, nothing held back. No half-way obedience. Come one friends, let's be bold in our obedience and see just how much of Christ's transforming power can be produced and released in our lives.
We can have confidence that God's best is God's will. Of the wine that Jesus made abundant, it was said it was the best. God does as God is – Profoundly good.
What is the immediate Hope from this Passage?
For those for whom "life" has happened… there is hope. God cares. He can make a way. He's got this. Involve Him today. Draw near with confidence to the throne of Grace (Hebrews 4:16). Believe that, "God is our refuge and strength, an ever-present help in trouble" (Psalm 46:1). Cast all your cares on the Lord, for He cares for you (1 Peter 5:7).
For those who are out of joy, the next step of obedience can be your gateway to new joy. There really is no better way to be happy in Jesus than to trust and obey. Bold, whole hearted obedience is the only way to abundant joy.
For those trying to be clean – going through the motions – Jesus Christ will make you new. Put your trust in Him.
Thanks for reading,
'Dav