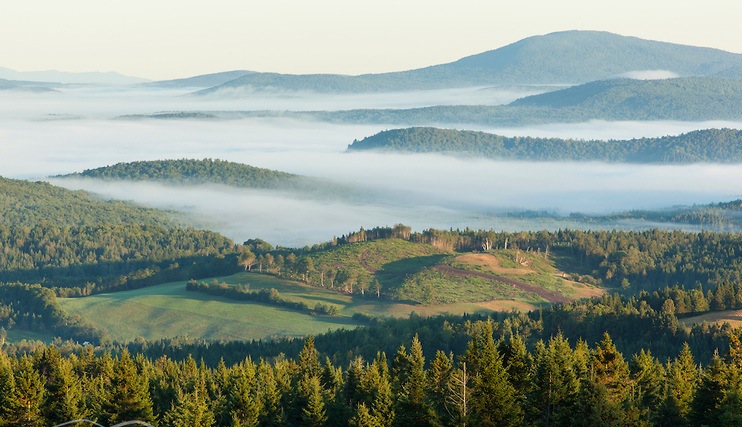 1 Kings 20:23-30
I would like to caution against asserting a theology that declares God is more willing to be present or loving or powerful in one place over another place.  Not in a building, nor "out on the streets" – neither is relevant. There is nothing sacred about geography, buildings, etc. I have heard it repeated time and again that God is more willing to act in third world/overseas vs. North America, or "the market place" vs. in the gathering of believers. It suggests favoritism and smacks of insinuation against the nature of God. He acts according to His Nature and in response to faith – He is no respecter of persons or places, and He does not change like the shifting shadows.
It is pagan, in fact, to think in terms of "out there" or "in here." It was pagan for the Arameans (1 Kings 20:23-30) to think Yahweh was restricted to a certain jurisdiction or region (hills, but not valleys). The pagan king thought that since he lost a battle in the hills, that perhaps he'd be more successful in the valleys.  However, The Lord displayed his power without locational restraint or preference. Yahweh is "I am" – He is fully present in the moment, in the spot.
(I can't help but pause to allegorize here a bit – this pagan king's plan to "get Israel down in the valley" in order to defeat them – sounds all too familiar, right? The enemy often seeks to drag us into valleys of discouragement, depression or distraction – places where we might well be vulnerable or weak – and do his worst to wound us there. But dear friend – the same God who is present in the highest point of our lives is present in the low places as well. He will never leave us nor forsake us; He is faithful; His love endures forever. Yea – even though you sludge through the valley of the shadow of death – fear not! He IS WITH YOU.)
The same glory on the mount of transfiguration was powerfully present to deliver the young boy from the harassing evil spirit (Mark 9). The same authority to drive out devils in synagogue was present to rebuke a fever (Luke 4). We need not worry about when or if the water is troubled (John 5), but determine that we are willing to be made well. Jesus didn't care about the Jacuzzi; he was after the man's will.
So, don't be superstitious about locations or timing or even the right song… Just practice His presence and power and love – all the time. The battlefield is in our thoughts, in our attitudes, in our readiness, in the ruling superstitions that still determine when, how, or IF we experience God's presence and power. He is not fickle, we are. He is not moody; we are. He is not easily distracted; we are. He isn't even easily offended; we are.
Now, there is more to locations, at times, than I fully grasp. I know that angels attend us, and appear certain places or guard places or etc. I am aware of the inexplicable episodes of divine presence and eruption in certain places and seasons. I am convinced there is more to those stories than we really know. What we DO know is what is important. The emphasis in the Kingdom is the presence of God in/on/among people. You are the temple. Location is irrelevant to God's presence and power. Faith is relevant. Worship is relevant. Humility is relevant. Hope is relevant. Joyful anticipation is relevant. Obedience and even risk are relevant.
Our mind-set, our confidence, our faith-anticipation often is often influenced (negatively or positively) by location. This habit is at the root of a great deal of our boredom, our dissatisfaction, our lack of fruitfulness, etc. Too often believers contextualize the potential and potency of the Dynamic Presence of God. But the earth is the Lord's and the fullness thereof. His desire is to cover the earth with the knowledge (personal intimate experience) of His glory (Hab. 2:14). Wherever you are – He is fully present and invites your readiness, your anticipation of His Glory, your embrace of His Lavish Loving Presence, and your participation with His power.
In your seat at worship service, or in your seat behind the wheel of your car
While you're singing your favorite song, or selling your featured product
While you're standing in the prayer line or the check-out line
At summer camp, or at the school dance
Prophesying by the fire pit, or small-talking at the water cooler.
If it is any other way, it is just religion, superstition.
So – remember He is the God of the Hills and the God of the valleys.  He does not change; He is fully present. The rest is up to us.