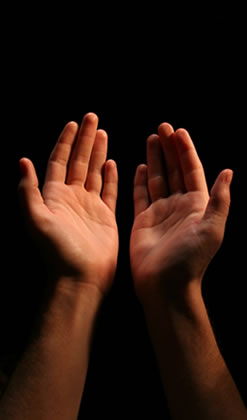 "Come, Holy Spirit!"
What does this mean?
When I pray, "Come, Holy Spirit" I offer no erroneous assertion. I recognize He is already present – I could never go somewhere where He isn't. Nor am I capable of summoning the Sovereign of the Cosmos.
For me to pray, "Come, Holy Spirit" is to ask that He manifest His presence and influence in my life – in my person and circumstances. There is little question that there is a difference between the acquiescent (omnipresent) presence of the Spirit and the dynamic, manifest presence. Even if that difference is often (or mostly) only realized by faith (and not necessarily the senses), it is in fact faith that I exercise with the words, "come, Holy Spirit." By faith I embrace and make myself aware of His presence. Often this results in some form of sensory awareness, ranging from a mild, personal, subjective sensation to a shared, powerful experience with others.
For me to say, "Come, Holy Spirit" is an expression of my own submission to Him. I consciously yield my cognitions, my affections and my actions to His immediate influence and infilling. With gratitude I patiently reflect on my circumstances, surroundings, and concerns and visualize all things surrendered to Him.
For me to say, "Come, Holy Spirit" is to honor Him, to reverence Him, and to welcome Him. I am expressing a sacred awareness of the Presence of the Holy One in my heart and life. I am deeply humbled and pristinely happy to host His Presence.
For me to say, "Come, Holy Spirit" is to value Him above the pressing matters and urgent concerns of the moment. It is to give my attention to Him first and most. It is to magnify Him in my perspective so that He eclipses all other things. Only in this light do I see clearly.
So I quite often, throughout the day, quiet myself and focus with joy uttering the phrase, "Come, Holy Spirit." And to my immense awe and wonder, He always does; He always "is."
Blessed Holy Spirit, Come!
*Come, O Creator Spirit, blest, and in our souls take up Thy rest;
Come, with Thy grace and heavenly aid, to fill the hearts which Thou hast made.
Great Paraclete, to Thee we cry: O highest gift of God Most High; O Fount of life! O Fire of love!  The sweet Anointing from above!
The sacred sevenfold grace is Thine, Dread Finger of the hand Divine: The promise of the Father Thou, Who dost the tongue with power endow.
Our senses touch with light and fire; our hearts with charity inspire; And with endurance from on high the weakness of our flesh supply.
Far back our enemy repel, and let Thy peace within us dwell; so may we, having Thee for Guide, Turn from each hurtful thing aside.
O may Thy grace on us bestow The Father and the Son to know, and ever more to hold confessed Thyself of each the Spirit blest.
Thanks for reading! Share if you like.
'Dav
*The Hymnal: Published by the authority of the General Assembly of the Presbyterian Church in the U.S.A., 1895