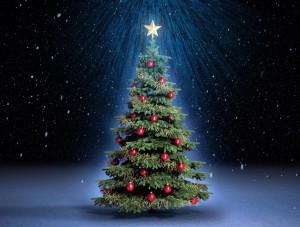 When I was a kid, for a few years I remember going to the Christmas tree "farm" and our family wandering around looking for the perfect tree to saw down and haul home. I remember the exhilarating desire to search for and select not only the most perfectly shaped tree, but a really big one. Without fail, my mom would decline my first few suggested trees, not because they were unattractive, but always for this one reason: they were just too big. She'd say that by the time we put it in a stand it would be taller than the ceiling.
But a big tree is what I wanted. A big tree it had to be. Why? Well, obviously because the bigger the tree the more presents, and bigger presents, would be under the tree. Clearly, the size of the tree determined the magnitude of gifts there-under. Clearly. So, we had to get a big tree.
Now, as I reflect upon my preadolescent reasoning, I know that my hope wasn't really in the size of the tree. It was really about my confidence in the nature of my parents. I knew the size of their affection, and the joy of their generosity. Those great qualities inspired my hope for the good times wrapped under the tree. So, we had to get a big tree.
And, my friends, it is that same confidence in the profound goodness of God that inspired the Apostle Paul to pen one of the pinnacle promises in scripture, "And we know that God causes everything to work together for the good of those who love God and are called according to his purpose for them" (Romans 8:28). If this promise is true, we had better get a big tree.
If God is causing all things to work together for our good, then there is going to be A LOT of good things under the tree. In fact, somehow, ALL THINGS will be under there: the good, the bad, the ugly, the bright, the dark, the sweet and the bitter, the calm and the storm, ups and downs, laughter and sorrows. All things. We better get a big tree.
All things are pressed into the service of God and packaged for our good. If all things are being worked out, worked together for my good by a loving and gracious God, then I had better get a big tree. Psalm 31:19, "Your goodness is so great! You have stored up great blessings for those who honor you!"
John Piper writes, "If you live inside this massive promise, your life is more solid and stable than Mount Everest. Nothing can blow you over when you are inside the walls of Romans 8:28."
This promise assures us that it is not just going to be okay, it is going to be good. There never has been and never will be a circumstance in your life where this promise is irrelevant. It is particularly powerful in times of challenge, heartache, setback or despair. It is NOT a proof-text to tell us "why bad things happen." It does not suggest God is the author of calamity or hardship. It promises that God is too good to be overcome by any of it. It may not provide answers to our questions, but  it assures us of peace. Nothing will ever enter your experience as God's child that, by God's profound goodness, will not turn out to be a benefit for you. Get a big tree.
This promise assures you that God is FOR you. If we will believe this deeply, we will not only survive, but will thrive in the pressures and temptations of modern life. We can believe deeply that God almighty is taking every set back and and every discouragement and pressure and pain and stripping it of its destructive power and making it work for our good. Get a big tree.
We can know that God causes all things to work together for the good of those who love Him and are called according to His purpose. All things. All of them. Wow.
We better get a very big tree.
Thanks for reading, and please feel free to share.
~ Dav